Transports in Spanish -Medios de transporte- Spanish vocabulary A1
Do you know how to speak about the MEANS OF TRANSPORT IN SPANISH?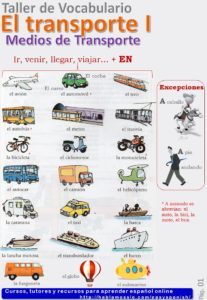 Transports in Spanish is said  "TRANSPORTES or MEDIOS DE TRANSPORTE". Let's learn vocabulary related to means of transports in Spanish. First download the pdf sheet, after that practice the vocabulary with the quizzes below. Finally, you can also watch the video "de aquí para allá", to learn more about means of transport, movement verbs and prepositions.
List of transports English Spanish
 Español
English
Français
Deutsch
Italiano
Autobús (m)

Bus

Autobus

Bus

Autobus

Autocar (m)

Coach

Autocar

Reisebus

Pullman

Camión (m)

Truck, lorry

Camion

LKW

Camion

Camioneta (f)

Van

Fourgon

Transporter

Furgone

Motocicleta (f)

Motorcycle

Moto

Motorrand

Motocicletta

Escúter (m)

Motor scooter

Scooter

Motorroller

Scooter

Bicicleta (f)

Bicycle

Bicyclette

Fahrrads

Bicicletta

Tren (m)

Train

Train

Reisezug

Treno

Tren de alta velocidad (m)

High-speed train

Train a grande

vitesse

Hochgeschwindigkeitszug

Treno ad

alta velocita
Metro (m)

Underground

Metropolitain

U-Bahn

Metropolitana

Barca (f)

Boat

Bateau

Boot

Barca

Barco (m)

Ship

Navire

Schiff

Nave

Yate (m)

Yacht

Yacht

Jacht

Yacht

Trasatlántico (m)

Cruiseliner

Paquebot

Passagierdamfer

Trasatlantico

Avión (m)

Aircraft

Avion

Flugzeuge

Aeroplano
Helicóptero

Helicopter

Hélicoptére

Hubschrauber

Elicottero

Automóvil (m)

Car

Automobil

Auto

Automobile

Deportivo (m)

Sports car

Voiture sport

Sportwagen

Granturismo

Descapotable (m)

Convertible

Cabriolet

Kabriolett

Spider

Vehículo todo terreno (m)

All-terrain vehicle

Véhicule tout-terrain

Geländewagen

Fluoristrada
Vocabulary activities about transports in Spanish